300 HR Yoga Teacher Training - Sex, Death & WealtH
Welcome to our 300-hour Yoga Teacher Training on sex, death, and wealth, where we delve into the fascinating intersection of yoga, science, and culture.

This training is a 3 week immersion in Bali followed by online learning and teaching practice.

Embark on a transformative journey of exploration and understanding, shedding light on taboo topics that hold immense potential for growth, healing, and liberation.


Sexuality, a fundamental aspect of human nature, often carries layers of societal conditioning, shame, and confusion. Through carefully curated discussions, workshops, and practices, we will examine the role of sexuality in our lives, exploring how it can become a source of empowerment, self-expression, and connection. By understanding the nuances of our own sexuality and cultivating a compassionate understanding of others, we can tap into the transformative power of this vital aspect of our being.
Death, an inevitable part of life, often evokes fear, grief, and uncertainty. In this training, we will confront our own mortality and develop a deepened awareness and acceptance of the impermanence of life. Through philosophical reflections, contemplative practices, and rituals, we will explore death as a teacher, transforming our relationship with it and uncovering a profound appreciation for the present moment. By embracing the wisdom of impermanence, we can infuse our lives with greater meaning, purpose, and gratitude.
Wealth, often accompanied by complex emotions and societal conditioning, holds the potential for both abundance and limitation. Through introspective exercises, discussions, and practical tools, we will investigate our beliefs, attitudes, and relationship with wealth. By understanding the interconnectedness of material and spiritual abundance, we can cultivate a healthy and balanced approach to wealth, unlocking our full potential and aligning our actions with our deepest values.
Together we experience the powerful benefits of the following:
 Daily yoga practice (asana, nidra, meditation, mantra)

 Pranayama (breathing practices)

 Yoga philosophy

 Teaching methodology

 Sound medicine

 Self-inquiry / contemplation

 Time for silence

 Peaceful, beautiful environment


LOGISTICS

2024 TRAININGS:
TBA

LOCATION:
TBA

QUALIFICATIONS RECEIVED:
Yoga Teacher with refinements in Philosophy and Meditation

ACCREDITATION:
Yoga Alliance 300hr RYT

COST: 
$3,950
MODULE I: SEX (100 Hours)
Discover the intricate connection between yoga and sexuality in a safe and inclusive learning environment. This module delves into various aspects of sex and sexual health, providing a comprehensive understanding of this fundamental aspect of human experience. Topics covered include:
Yoga practices for enhancing women's and men's sexual health

Exploring the anatomy of female and male sexuality

Understanding the influence of epigenetics on our sexual behaviors and experiences

Nurturing healthy human sexual development

Yoga for sexual healing and empowerment

Cultivating conscious and intimate relationships through yoga
MODULE II: DEATH (100 Hours)
Embark on a profound exploration of death, dying, and the art of letting go. This module offers a compassionate and introspective journey into the transformative power of confronting mortality. Topics covered include:
Embracing the contemplation of our divine nature and mortality

Establishing a deep connection with our inner being to alleviate fear of death

Unveiling the illusions of self-worth, separation, and egoic identification

Understanding the three stages of karma and working with karmic patterns

Examining and transforming samskaras (mental imprints) that shape our lives and deaths

Meditation practices for embracing death and dying consciously

Yoga for forgiveness, acceptance, and releasing attachments

Preparing for the death of loved ones with compassion and presence

Exploring cultural beliefs and rituals surrounding death and dying
MODULE III: WEALTH (100 Hours)
Delve into a spiritually informed exploration of wealth, abundance, and our relationship with money. This module delves into the deeper dimensions of prosperity, offering insights into cultivating a holistic approach to wealth. Topics covered include:
Examining cultural beliefs and behaviors related to wealth and self-worth

Exploring the four purusharthas (desires) – dharma, artha, kama, and moksha

Aligning spiritual values with financial abundance

Yoga practices for attracting and embracing wealth and abundance

Understanding the energetic aspects of money and its flow

Cultivating philanthropy, ethical practices, and social well-being

Exploring the spiritual and scientific aspects of sankalpa (intention)

Unveiling the interplay between wealth and personal transformation

Embracing the principles of spiritual economics


Each module includes daily:
Hatha Yoga, Pranayama, Mantra, Meditation, Yoga Nidra, Satsang, Self-inquiry
I haven't taken a yoga training before. Can I still join?

Yes, this course can be taken as a personal retreat or as a certified professional training. 

The emphasis is on self-care, new discoveries and gaining the benefits of daily Yoga practices such as asana, meditation, pranayama, nidra and mantra.
Emily Kuser – Founder of High Vibe Yoga
 Meet Emily Kuser, the founder of High Vibe Yoga. Since 2010, High Vibe Yoga has been empowering students worldwide, with over 600 graduates across 40 countries. Emily is a passionate and innovative educator, holding certification for both E-RYT 500 and RYS 500.
Throughout her journey, Emily has had the privilege of teaching and certifying students in various styles and modalities of yoga, including Hatha, Yoga Nidra, Anusara, Yin, Embodied Flow, Vinyasa, and Yoga Therapy. Her diverse background and extensive experience allow her to offer a well-rounded and comprehensive approach to yoga. With a gift for creating warm and welcoming learning spaces, Emily's courses in Hatha & Nidra, Women's SelfCare, and topics like Sex, Death & Wealth offer transformative experiences.
Her teachings have been deeply influenced by renowned mentors such as Sally Kempton, Andrea Boni, Tara Judelle, and Kamini Desai. 
Soma Temple
Satsang, Puja, Meditation
Soma has spent six decades exploring yoga and the spiritual path to awakening. Their journey began in 1972 when they attended their first yoga class at the age of 18. They embraced an alternative lifestyle, delving into the new age movement, sustainable living, and raising their three sons in teepees.
In 1992, Soma had a life-changing encounter with Papaji, a revered spiritual master. Guided by his wisdom, Soma experienced profound awakening and spent six years in Satsang with him. Witnessing sacred rituals and the cremation of an enlightened master deepened their understanding of the spiritual journey.
In 2008, Soma fulfilled a prophecy by leading a group to the sacred site of Arunachala in India. They dedicated themselves to spiritual knowledge under Pedanda Made Gunung, the head of the Hindu Religion in Indonesia, for eleven transformative years. Organizing ceremonies for 6,000 people during the passing of a high-level Pedanda in Bali further expanded their spiritual realization.
In 2000, inspired by Papaji, Soma founded Aum Rudraksha Designs to spread the significance of rudraksha beads globally. They believed that wearing these sacred beads could bring about global harmony. Today, Soma shares their wealth of experiences and knowledge to illuminate the path of freedom and devotion for others.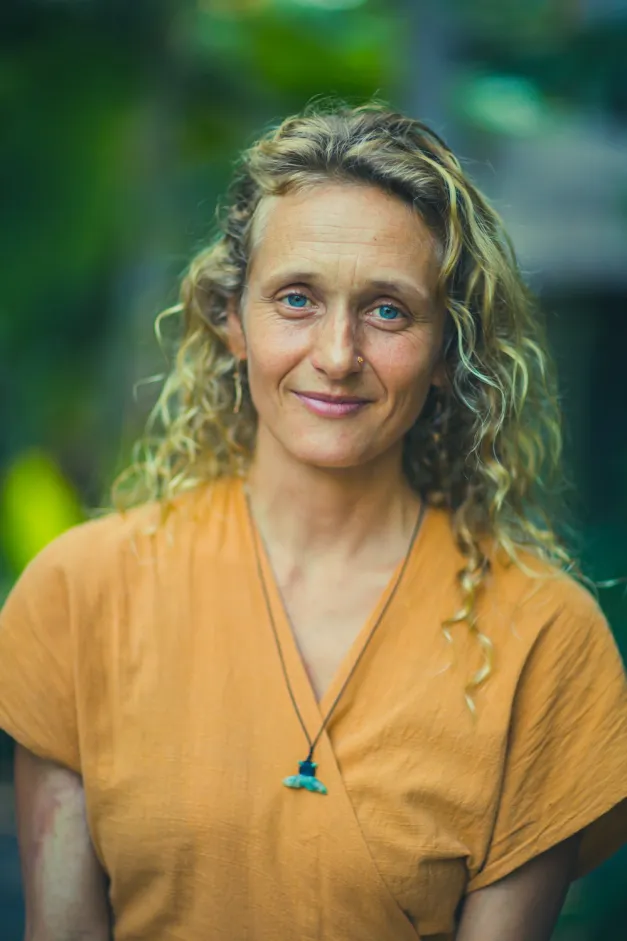 Bex Tyrer
Yoga Philosophy, Social Justice & Hatha Yoga
Bex has dedicated her life's work to yoga and women's health and focuses on inclusivity, trauma work and social and environmental justice. Bex has been a full time yoga teacher at the Yoga Barn, since 2009 where she teaches hatha, vinyasa, yin/restorative and women's balance yoga classes. Originally from Scotland, she has a love for the wilderness and with an MPhil graduate degree in Development Studies from Oxford University she has an insatiable curiosity for exploring life in all its dimensions; including the study of Yogic thought and history. Her personal journey with menstrual health, stress and anxiety has led her to birth  workshops and trainings designed to support women's holistic health. Her work is born from lived experience and dedicated research. With her commitment to social and environmental justice as well as commitment to yoga studies, research and mythology means that her classes offer fresh new insights and spins on "Yoga" that are beneficial to the modern practitioner and teacher.
Mark Whitwell

 
Ethics, Lifestyle, Philosophy, Satsang
Mark Whitwell is interested in developing an authentic yoga practice for the individual, based on the teachings of T. Krishnamacharya and his son T.K.V. Desikachar, with whom he enjoyed a relationship for more than twenty years. Mark's teachings clarify the profound passion and relevance of ancient wisdom to contemporary life. Mark has taught yoga for over three decades throughout the Americas, Asia, Europe, Australia, Fiji and Aotearoa-New Zealand, and is the editor and contributor to T.K.V. Desikachar's book, The Heart of Yoga.
First 'dropping out' of New Zealand society and travelling to India in his teens, this was the beginning of a lifelong love affair that took him into the orbits of many of the great masters of our time, known and unknown, culminating in discovering the Yoga of Krishnamacharya and the wisdom of him and his son, along with their two good friends, J. And UG Krishnamurti. Mark Whitwell has dedicated his life to sharing the useful insights of these extraordinary, ordinary people.
Tara Judelle
Yoga Philosophy, Meditation, Hatha Yoga
Tara Judelle is a world renowned yoga facilitator moved by bringing humans into their innate sense of freedom and purpose. After 30 years experimenting in all forms of movement, Tara co-created the School of Embodied Flow™ in 2014 to bring her current passions of yoga, somatics, tantra, free movement into a modern movement of Yoga. From a background in literature, film writing, directing and dance, Tara brings students on a journey of discovery of their numinous self through laughter, meditation, embodiment, movement & inquiry.
Technique & Yoga Practice 
50 hours 
Asanas, pranayama, meditation/yoga nidra, mudra & mantra —analytical training in how to teach and practice the techniques and guided practice of the techniques themselves. 
Teaching Methodology
5 hours
Includes principles of demonstration, observation, assisting and correcting, instruction, teaching styles, qualities of a teacher, the student's process of learning and business aspects of teaching yoga.
Anatomy & Physiology
15 HOURS
Includes both human physical anatomy and physiology (bodily systems, organs, etc.) and energy anatomy and physiology (chakras, nadis, etc.). Includes both the study of the subject and application of its principles to yoga practice (benefits, contraindications, healthy movement patterns, etc). 
Philosophy, Lifestyle & Ethics  
30 hours
Includes the study of yoga philosophies, yoga lifestyle and ethics for yoga teachers. 
Practicum 
30 hours
Includes practice teaching, receiving feedback, observing others teaching and hearing and giving feedback. Also includes assisting students while someone else is teaching. 
Electives 
170 hours
Elective hours apply to the educational categories above based on the advanced training's specialty. 
SCHEDULE


7:30-10am  Morning Yoga Practice
10am–10:30am Light Breakfast
10:30–12:30pm Methodology, Technique, Anatomy & Philosophy
12:30-1:30pm Lunch
1:30-3:30pm Methodology, Technique, Lifestyle & Practicum
3:30-3:45pm Break
3:45-6pm Afternoon Yoga Practice
RATES
$3,950.00 USD Standard Rate
WHAT OUR RECENT GRADUATES SAY...
WHAT ARE THE PREREQUISITES?
WHAT STYLE OF YOGA IS IN THE 300HR YOGA TRAINING?
CAN I TAKE THIS TRAINING AS A RETREAT?
WHAT ARE THE REQUIREMENTS TO COMPLETE THE PROGRAM?
IS THIS PROGRAM ELIGIBLE FOR YOGA ALLIANCE CERTIFICATION?
WILL WE LEARN YOGA ANATOMY?
WILL WE LEARN HOW TO TEACH ASANA?
I HAVE AN INJURY/SPECIAL CONDITION – CAN I TAKE THIS COURSE?
HOW MANY STUDENTS ARE ENROLLED IN EACH TEACHER TRAINING AT ONE TIME?
WHAT IS THE YOGA ALLIANCE?
IS THE HIGH VIBE YOGA TEACHER TRAINING QUALIFICATION RECOGNIZED AROUND THE WORLD?
I'M ALREADY TEACHING, CAN I COUNT MY CLASSES TOWARD THE TEACHING REQUIRMENT?
"Yoga is so much more than asanas – and this training offers an opportunity for exploring various aspects of yoga in a very supportive environment with inspiring, loving and wise teachers. Not only has it taken my practice to a new level, it has also allowed me to reconnect with a part of myself that I have neglected for years. It has been an amazing roller coaster ride and I would do it all over again." 
~Louisa, Denmark